Services
Partner in Implementation
Delmeco Projecten assembles machines and installations, provides maintenance and service, builds panels and provides project management. One thing is central to all our activities: the wishes of you, our client. We offer you technical solutions that are sustainable, safe and efficient.
Masters in Engineering
Our highly educated and experienced project leaders and mechanics are true masters in engineering. They love to use their knowledge and skills for you. They think of solutions that help you move forward. It is a joy to work with us.
VCA Certified
The environment we work in is important. That is why we are proud to be VCA** certified. This means that we adhere to all rules regarding safety, health and the environment. It also means that we are certified to act as main contractor on all projects.
ISO 9001 Certified
We are committed to quality and innovation. To allow us to continually ensure this quality, we use a quality management system in which all our procedures and activities are laid down. This system is ISO 9001:2015 certified. This means our clients can be certain of a guaranteed quality.
We work, amongst others, for the nuclear industry, food processing industry, recycling/waste industry, process industry, petrochemical industry, packing industry and leisure industry.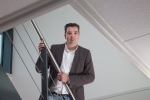 Director and engineer R. (Raymond) Potters: "Building high-tech machines or installations, combining various disciplines whilst dealing with a challenging planning, asks a lot from people. That is where technical knowledge, team spirit, resourcefulness, flexibility and willpower are key to reaching the end goal. Our team of highly-trained Masters in Engineering faces this challenge on a daily basis."